Our future goal:
Fusion Imaging with Artificial Intelligence in the Cloud
CART-Tech solution for CRT Implants
CARTBox for CRT; easy assessment and visualization of:
3D myocardial infarction transmurality map

4D myocardial contraction dyssynchrony map

Visualization of the AHA 17 segment model

Overlay of all information on live fluoroscopy during the device implantation

CE certified 

(currently without cloud functionality)
Clinical evidence

Patients who received real-time image-guided LV lead implantation using CARTBox had their lead placed much closer to the target area compared to patients who received the lead without guidance by CARTBox (8 mm [IQR 0–22] vs 26 mm [IQR 17–46], p = 0.04). They also had marked LV reverse remodelling at 6 months follow up with a mean LVESV change of −30 ± 10% and a mean LVEF improvement of 15 ± 5%.
Conclusion: real-time image-guided LV lead implantation is safe and feasible and may prove useful for achieving the optimal LV lead position.
CARTBox MRI image overlays
Project myocardial infarction transmurality and contraction dyssynchrony on live fluoroscopy.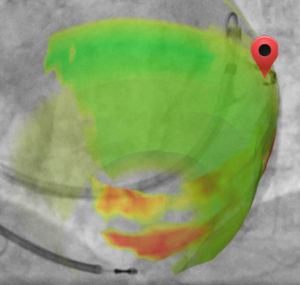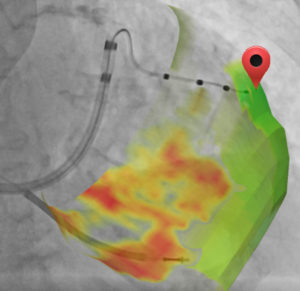 CART-Tech philosophy:
Processing prior to implantation in the cloud, no extra time required during the procedure

Vendor-independent, compatible with old and new equipment

Augment the skills of the cardiologist.
The future:
New therapeutic areas

Fusion of myocardial infarction imaging with mapping devices (CARTO, Ensite-NavX) to support ventricular ablation procedures

Use of CT imaging
Mapping mechanical contraction
Clinical development
Currently, CART-Tech is conducting a large randomized study together with several leading clinical centers, supported by ZonMw (The Netherlands Organisation for Health Research and Development):
Co-ordinating center:
UMC Utrecht
Principle investigator: Mathias Meine, MD, PhD
Co-investigator: Philippe Wouters, MD
 
Antonius Ziekenhuis, Nieuwegein
Principle Investigator: Vincent van Dijk, MD, PhD
Isala Ziekenhuis, Zwolle
Principle Investigator: Peter Paul Delnoy, MD, PhD
 
Additional clinical studies will be added in the near future.
Philippe Wouters MD MSc
PhD-candidate UMC Utrecht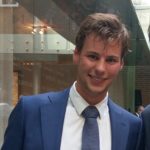 Philippe has a background in biomedical sciences, where his first interest in cardiovascular research was sparked. Afterwards he obtained a double master's degree in both medicine and clinical research. Since 2019, Philippe is working as a PhD-candidate in UMC Utrecht. He investigates various strategies to improve response to cardiac resynchronization therapy. His main focus is to improve lead positioning in this important device therapy. Philippe believes in the importance of a holistic and multidisciplinary approach, and is therefore also involved in resolving knowledge gaps within the field of exercise physiology in patients with chronic heart failure.